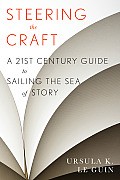 Subtitle: A 21st-Century Guide to Sailing the Sea of Story
Recommended to me by: Justine Larbalestier
A writing manual about the tools of the writing trade: punctuation, grammar, voice, point of view. This compact book is carefully detailed, wryly kind, deeply knowledgeable. It arose out of writing workshops that Le Guin offered, and has been revised for the 21st century with references to twitter and online workshops. She includes sample passages from classics, and tells us what she admires about them. Each chapter ends with a writing exercise and how to learn from it.
I felt in safe hands. I'd like to go back and do the writing exercises sometime, especially with a group. I write essays, not stories, so not everything applies, but I'm sure it would still be helpful.
Highly recommended for anyone who writes stories, or anyone (like me) eager to read anything written by Ursula K. Le Guin, who is sorely missed.