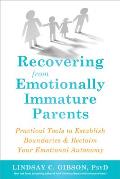 Subtitle: Practical Tools to Establish Boundaries & Reclaim Your Emotional Autonomy
Recommended to me by: Reading Lindsay Gibson's previous book
This book repeats some material on emotionally immature parents from the previous book Adult Children of Emotionally Immature Parents, in a way that is more focused on how the adult child feels rather than focusing on the parents. It develops more material on how to resist emotional takeovers and how to develop a more functional relationship with emotionally immature parents in adulthood.
The premise is to be sure of your own value, and relate from that place, rather than hoping the parents will recognize and nurture your value. There are some good detailed suggestions for how to build a trusting relationship with yourself. The process could take a long time, even with therapeutic support.
There were occasional mentions of creating more distance from emotionally immature parents, but for the most part this book focuses on staying in relationship. I would have liked to see more about danger signs that indicate it's better to stay far away.
I've been mentioning this book to lots of clients. Recommended for great analysis and ideas for how to regain autonomy and heal from immature parenting.