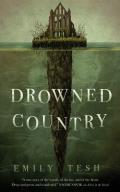 Recommended to me by: Reading Silver in the Wood
I loved the unusual aspects of the previous novella, "Silver in the Wood." This one was also well-written, but more stereotypical (selfish young white man protagonist) and plot-driven rather than character-driven. Oddly I found it had less tension and horror, perhaps because it moved faster. The ending is warm and fuzzy, but leaves me concerned for the non-selfish characters. I was not convinced that any redemption arc had occurred, even if I were interested in redemption arcs of selfish young white men.
When I love the world-building and character-building of a first book, I'm noticing that the second book tends to be less satisfying for me, because the author seems to say, "Now that we got all that out of the way, let's do things." The characters get moved around rather than developed.
On the positive side, I was pleased by the matter-of-fact inclusion of queer characters. This novella is a good diversion while stuck inside due to pandemic + atrocious air quality from wildfire smoke. I got this as an ebook from the library, and that's a good way to read it.