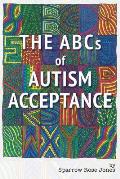 Recommended to me by: AlexSeanchai
I thought the ABCs of autism acceptance would be the basic or elementary level of acceptance. Instead, this is a series of essays on topics starting with each letter of the alphabet: A for Acceptance, B for Bullying, C for (People of) Color, etc. Sparrow Rose Jones is autistic and shares some of their story through the essays.
They started the project out of rage against "autism awareness month" and the Autism Speaks organization, which ignores autistic adults and treats autistic children as a dreadful burden on their parents. Some of the essays carry that edge of fighting back against unacceptable treatment. The book advocates for acceptance, inclusion, and support, rather than awareness, othering, and neglect. "Presume competence, and provide support." Autism is an intrinsic quality of a person, not something that can be peeled away to find the "normal" child or adult underneath.
Sparrow Rose Jones describes their own experience, and also reinforces that autistic people are not a monolith by including references to other autistic people's viewpoints. In "E is for Empathy," they strongly question the assumption that autistic people lack empathy, and also refer to Cynthia Kim's essay The Empathy Conundrum where she discusses having an empathy deficiency. She distinguishes between not being able to sense someone's emotions, while still having sympathy for their distress when she perceives it. Autistic people deserve acceptance and support whether or not they can intuit others' emotions.
From the conclusion:
We have explored some serious and often intense topics. Autism acceptance is about seeing the beauty and living the joy of autism, but there are some very difficult aspects to the Autistic life – some inherent and many imposed on us from outside. Autism acceptance includes understanding our struggles and being compassionate toward us as we seek a better life for ourselves and others.
Highly recommended to learn about one person's experience of being autistic and an overview of others' experiences, including statistics about poverty, unemployment, victimization, etc.
Note: The author is now known as Maxfield Sparrow. Website: Unstrange Mind.