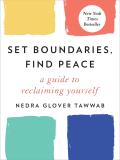 Subtitle: a guide to reclaiming yourself
Recommended to me by: Renay at Lady Business
Nedra Glover Tawwab is a therapist and an Instagram influencer. Her book is a solid introduction to boundaries and how to use them in a variety of contexts. She defines boundaries as "expectations and needs that help you feel safe and comfortable in your relationships."
Among many heterosexual examples, her vignettes include two lesbian couples, where one of the couples breaks up. Gender roles are reasonably varied. Race wasn't signaled in the examples. The author is Black.
She briefly addresses microaggressions as boundary violations. The suggested solutions are to assertively call out the problem, for example, "I notice that you said, 'I don't sound Black.' What does that mean?" And/or suggest more appropriate behavior, for example, a woman CEO who is called "bossy" could say that she is simply assertive and willing to lead.
Boundaries are great! Assertiveness is great! Implying that they can solve discrimination, and saying outright that we need to teach others how to treat us, is less great. I agree that it's worth explicitly asking for what one needs before giving up on a relationship. At the same time, Ask vs. Guess culture is not discussed, where Guess culture imposes a social penalty for explicitly expressing boundaries and needs.
There is an extended example where one person in a relationship blames the other for "poor communication" where the actual problem is that the blamer is using manipulation and guilt-tripping. Again the solution is to call it out as guilt-tripping. Gaslighting, abuse, and inappropriate blame are mentioned, with the same appearance of neat solutions.
This book explicitly puts the responsibility for policing boundaries on the boundary-setter. As someone who bought into "Boundaries will fix everything!" many years ago and worked very hard at them, it's painful to find that assumption woven through the book. While it is important to take action where we can, it is also important to take a step back when it doesn't work, rather than endlessly trying harder. That balancing act is not as straightforward as this book makes it seem.
This is a clear, detailed, encouraging manual for learning about boundaries. Recommended if the idea of assertive boundaries is new to you. They can definitely improve difficult situations and clear up problems with over-commitment and hidden assumptions.
There is a forthcoming Set Boundaries Workbook.
Nedra Glover Tawwab's website