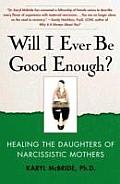 A mix of personal memoir, client stories, and self-help advice, this book compassionately details the effects of having a narcissistic mother and shows a pathway for healing.
Narcissism – extreme self-absorbtion and inability to empathize with others – occurs on a spectrum from a few narcissistic traits to full-blown Narcissistic Personality Disorder. Women with these traits compete with, control, or ignore their children rather than providing unconditional mirroring and acceptance.
Their children grow up questioning their very right to existence, either piling up achievements to become "good enough", or hiding from their pain in drugs, alcohol, and acting out.
"A daughter who doesn't receive validation from her earliest relationship with her mother learns that she has no significance in the world and her efforts have no effect. She tries her hardest to make a genuine connection with Mom, but fails, and thinks that the problem of rarely being able to please her mother lies within herself. This teaches the daugther that she is unworthy of love."
McBride gives three steps for recovery:
Understanding and diagnosing the problem
Processing the grief and other feelings from childhood
Discovering true preferences, values, and ways of being.
I recommend this calm, thorough, and encouraging book to anyone who finds herself struggling to prove that she is good enough to be seen, honored, and valued.