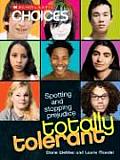 Subtitle: Spotting and stopping prejudice
A brief, photo-filled book with concrete advice for teens on embracing diversity and overcoming prejudice.  Adults can benefit from this book as well.
As you can see on the cover, the photos strongly support the book's message, showing people of a variety of skin colors, genders, and ethnicities.
Diversity is defined as difference.  Tolerance is defined as "respect for everyone's religion, gender, race, ethnicity, sexual orientation, and social class."  Stories about students from different backgrounds illustrate positive and negative experiences with tolerance and the effects they had.
From the back cover: "Everyone should at least make an attempt to stop bigotry.  Otherwise, other people suffer because you don't have the guts to stand up for what you believe in."  — Kevin, 14.
I'm encouraged to see the clear, positive approach this book takes toward spotting and stopping prejudice.  It addresses bullying as well.  I wish every teen (and every adult) would read and absorb its wisdom.