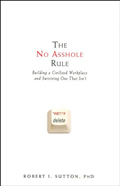 Recommended to me by: Robert Sutton blog post (via Twitter)
It's a rare business book that focuses on warmth, kindness, and peaceful, loving environments. This compassionate little book, subtitled Building a Civilized Workplace and Surviving One That Isn't, does so with clarity and conviction.
In this book, you'll find:
A definition of assholes (also known as jerks, bullies, tyrants, etc.)
The costs of employing them
How to implement and enforce a "no asshole" rule, including heartening positive examples
How to avoid behaving badly ourselves, including a self-test
Survival tips for unavoidable asshole-ridden situations
What people get out of behaving badly
The main message:
Treat the person right in front of you, right now, in the right way.
I am delighted to discover that some corporations and academic departments value respect and kindness. I highly recommend this book to anyone who wants to follow their example.