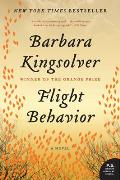 Recommended to me by: Reading Barbara Kingsolver's other books
This book has Barbara Kingsolver's trademark combination of vivid characters and complex global issues. The issues in this book are climate change and, relatedly, mass production of cheaply made products that end up in landfills or the ocean. We get a clear picture of rural Appalachian life, including the exposure to unwarranted contempt from wealthier, more educated urban folks. Also including their vulnerability to climate disaster.
I was completely absorbed. Highly recommended.