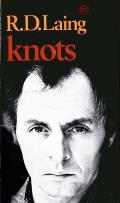 Recommended to me by: David Mitchell
These are the knots of human relationships, stripped down to their raw bones, layered like acrostic puzzles into brief poems. It starts with parent-child relationships, and moves on to (presumably) romantic relationships, indicated by dialogues between Jack and Jill.
There is no untangling in this little book; just knots. I'm not sure these are the sort of knots that are helped by awareness. They may just be pulled tighter. The book came up in the context of complementary schismogenesis, when two people (or groups) get more and more polarized in their roles. That can sometimes be interrupted with awareness and consciously adopting the opposite qualities.
Jill
I'm ridiculous
Jack
No you are not
Jill
I'm ridiculous to feel ridiculous when I'm not.
You must
be laughing at me
for feeling you are laughing at me
if you are not laughing at me