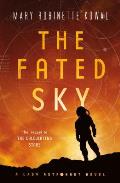 Recommended to me by: Sequel to The Calculating Stars
Elma York goes to Mars. Like in The Calculating Stars, the characters in this book do not flinch from talking about racism and sexism in a system and society they can't fight or escape.
The plot is more action-driven than the first book. Some characters grow and change in surprising ways. Grief is included as a major emotional force, rather than being glossed over as happens in many books.
The subject is brought up directly in the book, but there is still a big hand-wave on the impracticality of evacuating even a small percentage of the earth's population to another planet, and how the resources required for that would take away from resources to address problems on earth. Of course the usual biases would affect who stays, who goes, who gets help and who doesn't.
I still love that Elma's Judaism weaves through the book with an ongoing cascade of familiar details. I love the conscious inclusiveness of Black characters, a Muslim character, a relationship between men, (minor) characters with disabilities.
I can't imagine that an organization would put people with known major relational stresses on a 3 year mission together in a small ship. I can't imagine that people would be able to manage that. Makes me wonder how sailors handle it on long trips.
My suspension of disbelief wobbled on this book. The contrast between doing calculations by hand and making a colonizing mission to Mars was too big. Still a fun read!