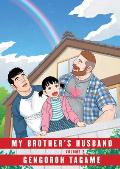 Recommended to me by: Reading Volume 1
This graphic novel is the second half of Mike's visit to his dead husband's brother's family in Japan. It's a quick read, and at the same time touches on a lot of emotionally powerful themes. The meaning of "family." Making things right after a family member has died suddenly. Being in the closet, and out of it, as a gay man in Japan. Politeness, and its difference from kindness and courage.
For example, young Kana and her friends openly welcome her gay uncle Mike, in contrast to the more guarded welcome of the adults. Yaichi (Kana's father) does come around in the end.
Recommended for learning more about Japanese culture, and for seeing how hidden homophobia can change under gentle pressure.