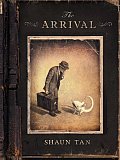 Recommended to me by: Sarah Pinsker
This book has no words, only illustrations. Whimsical and menacing by turns, the images tell the story of an immigrant's parting with his family and arrival in a new land where everything is unexpected and askew. It was unclear until the end whether the macabre or the whimsy would win.
This book is far more serious than "picture book" would imply. The sepia-toned art is magnificently expressive.