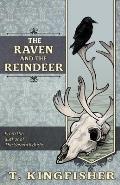 Recommended to me by: Redbird
A slant-wise retelling of the Snow Queen story originally by Hans Christian Anderson. It's been a long time since I read the original, but I remember a sense of heavy oppressiveness. The beginning of this book has the same feeling to it, but fortunately veers away from that after the first few (short) chapters.
Young Gerta thinks of Kay as her best friend, and Kay barely notices her. That's a big part of the oppressiveness. It's a great depiction of the shame that arises from associating with a narcissist. The book does not use the word narcissist ("frost in his eyes and frost in his heart"), but Gerta does name the shame she feels, and she breathes through it until it passes.
As in the fairy tale, Kay gets taken by the Snow Queen and Gerta goes after him. First thing, she gets caught by a milder kind of narcissist who is kind, but delays Gerta for her own purposes. "Gerta's desire to be useful was an open road down which nearly any magic could walk."
After she gets away, she still has difficulties and there is some violence, but she has more agency and less shame and the book is more comfortable to read. Her relationships with the allies she finds are delightful and kind.
Overall the book is engaging and beautifully written and surprising and inclusive. Highly recommended.