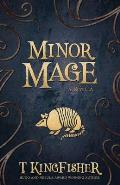 Recommended to me by: Redbird
This novella has a similar structure to T. Kingfisher's The Raven and the Reindeer. A young person sets off on a mission through empty countryside, encounters a solitary farmhouse whose inhabitants are dangerous, has or acquires a talking animal companion, acquires a human companion, encounters a bandit camp, and eventually succeeds in the mission.
In this book, the twelve-year-old titular minor mage Oliver sets off with his armadillo familiar to bring rain to his drought-stricken village. The underlying theme of his adventures is the ethics of power and responsibility. There is some violence, which is considered and regretted afterwards, not simply ignored or taken for granted.
It's a quick, enjoyable read. Recommended!