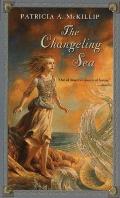 Recommended to me by: People mourning McKillip
This book was first published in 1988, and it is one of the books by Patricia McKillip I have carried with me since I was a teenager. I didn't love it the way I did the Riddle-Master trilogy or Forgotten Beasts of Eld, but I liked it enough to keep it through several purges of my SciFi and Fantasy paperbacks.
Sadly, McKillip died recently, and people mentioned The Changeling Sea as one of their favorites. I pulled it from the shelf and took it with me to spend time at my beloved Berkeley Rose Garden. It was the perfect book to read while sitting on a bench surrounded by roses.
I liked the theme of communication, using words carefully, and repairing ancient grudges and broken relationships. I was less pleased by an innocent 15-year-old village girl being treated as an appropriate romantic target by a traveling magician. The narrative doesn't give his age, but he seems experienced enough to be at least 25, perhaps 30 years old. I wish young me had had books with better messages about adults protecting teen girls, rather than treating them like grown women.