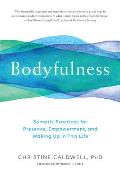 Subtitle: Somatic Practices for Presence, Empowerment, and Waking Up in This Life
Recommended to me by: Darryl C
"Bodyfulness" is the embodied version of mindfulness, presence without leaving the body behind. Caldwell brings in Tibetan Buddhism, Sensorimotor Psychotherapy, and her own experiences with movement and presence. The different modalities felt awkwardly pushed together in places, with superficial coverage of anatomy and neurology. Perhaps she came to the topic from an academic perspective and forgot to talk with bodyworkers and others who make a lifelong practice of body awareness.
There are practices to try out in each section to explore body awareness.
8 principles of bodyfulness:
oscillation – movement through a range, with a preference to stay mostly in the middle of the range. Our cells, our organs, our whole body, all have oscillations.
balance – pausing, like balancing on one leg, and also being centered, not getting stuck at the far end of an oscillation
feedback loops – sensing and moving, trading information back and forth. Also cross-connections between different systems.
energy conservation – habits conserve energy by not having to figure them out every time. Movement plans (such as reaching, or standing) do the same thing at a body level.
discipline – practice leads to grace. "Use it or lose it." This was a brief section and felt grafted on.
change and challenge – our bodies change under the challenge of new needs or a new environment
contrast through novelty – when something is new, it gets our attention and perhaps elicits change.
associations and emotions – guide our actions, memories, experiences.
4 themes
breathing – this book, about awareness of the body, says that gravity does the work of the outbreath. Which moves up. No. The diaphragm relaxing up into a dome shape lets the outbreath move without additional effort. This error alone made me lose all confidence in this book.
sensing – add kinesthesia to the usual 5 senses. Balance the amount of sensory awareness, and the amount of attention inwardly or outwardly.
moving – motor plans and motor development, probably from Sensorimotor Psychotherapy. Some basic exercises to address trauma held in the body.
relating – borders, boundaries, and coregulation.
Bodyful Applications included material on oppression, activism, and bodily authority. It also explores the contrast of bodylessness: ignoring the body, seeing the body as a problem or project, hating the body, and making one's own or other people's bodies wrong.
Unfortunately there is an ongoing theme of "curb your addictions" and "fix your eating habits" in the examples. It seems strange to have judgmental examples in a book about body awareness and acceptance. Also there is a non-ironic positive use of "trickle-down economics."
This is such a great topic, addressed in an oddly skewed way, as if it's trying to match up modalities that don't quite fit. It has interesting information, but I can't trust any of it when basic facts about breathing are simply wrong. It would be a good start for someone who hasn't thought about body awareness at all and needs a step by step introduction to the idea.