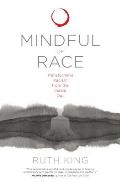 Subtitle: Transforming Racism from the Inside Out
In the Introduction, Ruth King shares the effects of race on her own body and her own family as a Black woman living in the south of the US. Insight meditation has helped her manage the effects of racism, and she has created trainings that help others cure the heart disease of racism.
Part 1, Diagnosis, analyzes racism. Her writing is direct and clear. Here is how racism affects Black people. Here is how it affects white people. We have dominant and subordinated identities, like a white woman who is also chronically ill, or a Jewish person who passes as white. Here is how we can begin to get honest with ourselves and others about race.
Part 2, Heart Surgery, teaches the basics of mindfulness meditation. Here is how to invite the body to settle. Here are many specific phrases to say silently to ourselves or others in metta (kindness) meditation. For example, "When you feel deep sorrow, hopelessness, and despair, I will stay with you. I will breathe with you."
Part 3, Recovery, gives tools for creating racial affinity discussion groups and making progress in dislodging racism from our hearts. Throughout the book, she gives examples of how listening deeply and making time for our emotional responses allows us to move through them and reach our vulnerable hearts.
Unlike The Inner Work of Racial Justice by Rhonda Magee which moves very slowly and seems to be trying to convince skeptical white people, this book lays out the truth and assumes people will do the work to absorb it.
Highly recommended.
Ruth King's website with more about her Mindful of Race training program.