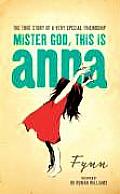 I bought this book about 20 years ago for the delightful drawing on the cover. At the time, I read it as a rescue story, set in the 1930's in London's East End. 5 year old Anna has run away from an intolerable home life, and is found and adopted by gruff, kind, 19 year old Fynn and his dependable mum.
Fynn makes an effort to educate his new best friend, and finds himself educated at the same time by her headlong explorations of physics and her effervescent ideas about Mister God.
I picked the book up recently and re-read it, and this time it reads more like an allegory, where Fynn and young Anna are vehicles for the Author's Message about God.
The Wikipedia page about the book reveals that Fynn is a pseudonym for Syndey Hopkins, and gives more information about his life. He did grow up in the East End of London in the 1930's.
In the book, as Fynn and Anna discuss philosophy and religion, they also explore the East End with all their senses, and share it with the reader. Those details, along with William Papas' impressionistic line drawings, are my favorite parts of the book.