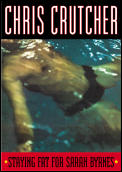 Recommended to me by: Tess Alfonsin
A hard-edged book for teens that takes on multiple tough issues:
Children's cruelty to each other for being fat or disfigured
What it's like to grow up fat or disfigured
Surviving parental abuse and abandonment
Abortion
Hypocrisy
Religious intolerance by some Christians
While I applaud the author's courage in addressing all these important issues, I think the book would have been stronger with at least one fewer sub-plot and more attention to characterization. The major teen characters showed some complexity, but the adults were either all-good or all-bad.
I was caught up in the plot and characters until the book suddenly turned into a thriller with a violent climax. I felt tricked into reading something far more violent than I expected or enjoyed.
I'm glad teens are reading and thinking about all the issues in this book.  I wish the issues weren't packaged with a violent, all-good/all-bad wrapper.