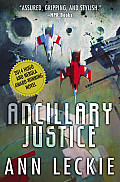 I loved this book. I saw it recommended all over the place as unusual for space opera, but it took a friend loaning me his copy, and some spare time, to sit down with it. It opens with what seems to be a dead body, so I almost put it down again, but then I found myself on page 80. I finished it the same day. I used to inhale science fiction like that when I was growing up, but I've gotten a lot pickier over time.
Default pronouns are female, no matter what the person's gender. It's not the mismatch that interests me, but the up-front declaration that this isn't just about young white men. In fact, the protagonist and her companion have brown skin. Sensory details are described with creative care. Details of relationships, not just heterosexual pairings but working relationships, negotiations, friendships, carry this book.
Power and privilege and favoritism aren't just taken for granted, but clearly described and taken into account. I didn't feel erased by this book. It brought up my own feelings of being stranded, isolated, and stubbornly trying to make things better one step at a time.
Highly recommended, when you have a chunk of time to spare.