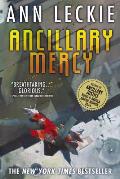 Recommended to me by: reading Ancillary Justice, the first book in this series.
This book has more plot drama and more heavy-handed social justice messages than the first two books. I imagine that works for the target audience of young space opera fans, but it didn't suit me as well. It felt like the faster-moving plot crowded out some of the relationship development that I enjoyed in the first book.
The first book felt like it included me, where this book felt like it lectured me. Even though it was a lecture I agreed with about self-determination and unconscious privilege, I didn't enjoy the book in the same way.
There was a lot less killing, and a lot more emphasis on each life being valuable. No one is cannon fodder in their own life story.
All in all, I'm not sorry I read it, but it didn't have the WOW factor of Ancillary Justice.