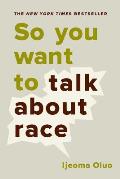 Recommended to me by: Ijeoma Oluo's twitter feed
Ijeomo Oluo is a writer, speaker, and editor at large at The Establishment. She is also a queer Black woman, the single mother of two boys. Her writing is kind, direct, and clear, with practical suggestions on how to talk about race and dismantle racism.
Through both personal anecdotes and statistics from research studies, she lays out what racism is, how it affects people of color, and what we can do about it.
First, she addresses some of the objections white people have to discussing racism at all. Just because white people don't see it, doesn't mean it's not happening. No, it's not just about class. Yes, race affects how people are treated in a long-term targeted effort to use Black people's labor and keep them from competing with white people. Racism is prejudice + systemic power. Calling a white person a cracker does not have the far reaching effects and historic resonance that calling a Black person the n-word does.
With care and clarity, she addresses privilege, intersectionality (don't leave more marginalized groups behind), police brutality, affirmative action (yes it works, no it's not a panacea, and sadly it's being dismantled), school-to-prison pipeline (all kids deserve to be seen in a positive light), cultural appropriation, using the n-word (if you're not Black, DON'T), touching Black people's hair (DON'T), microaggressions (when and how to address them), model minorities (still racism), and taking action.
Carefully, at the end of the book, she addresses that we're all racist (yes me, yes you) because we are all immersed in a racist culture. We can do our best to become aware of our racist thoughts and habits and change them. We are better prepared to have conversations about race with our friends of all races with Ijeoma Oluo's explanations and detailed advice.
Highly recommended as a no-nonsense, compassionate guide to what white people need to know about racism. I imagine Black people would find it validating as well. Please read this book!