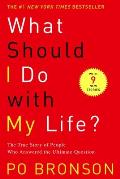 Po Bronson sought out hundreds of people's true stories about answering the question, "What should I do with my life?" He tells 55 of these stories in detail, loosely organized by the issues they were confronting.
I was drawn in by each person's richly described story, as well as by the underlying story of Po Bronson's own journey. Rather than providing answers, the book provides a glimpse of how each person approached the question and the process.
From the conclusion:
"Now I know passion is rooted in deeply-felt experiences […] Now I think the choice is in whether to be honest, to ourselves and others, and the rest is more of an uncovering, a peeling away of layers, discovering talents we assumed we didn't have."
An enjoyable read, recommended to anyone who is interested in authenticity, transformation, and living well.
Sample chapters at Po Bronson's website.