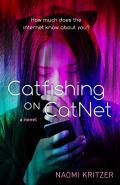 Recommended to me by: Marissa Lingen
This book is based on the short story Cat Pictures Please, which touches on serious issues but is basically lighthearted and positive.
The book, less so. Yes, there's a benevolent AI (artificial intelligence) who loves cat pictures. There are delightfully depicted internet friendships, and in-person friendships. Some of the characters are non-binary, and (almost) everyone is respectful about pronouns.
There's also an 11th grader whose mom moves them all the time to keep away from her stalker dad, and some just barely off-screen domestic violence. It all comes right in the end, and I'm glad the book addresses those topics. At the same time, it felt jarring to me to have these deadly serious issues juxtaposed with a lighthearted cat-picture-loving AI who can fix all the problems.
It's well-written. Recommended if you don't mind fictionalized, simplified domestic violence. For me it was too realistic to be fun but not realistic enough at the end of the book about how difficult it is to escape.