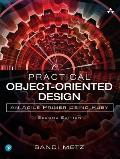 Subtitle: An Agile Primer
Recommended to me by: Sam Livingston-Gray
I first read this back in 2012. It struck me as friendly rather than condescending this time, which is an interesting shift.
In 2012 I was just learning Ruby and focused on deciphering the example code as I read. Coming back to it after having programmed in Ruby for three years, I could read the examples fluently and focus more on the general points in the book, even though I haven't looked at Ruby code in a while.
Some points that stuck with me this time:
The purpose of design is to allow future changes in code, since requirements and circumstances keep changing.
In object-oriented design, pay attention to the messages passing between the objects.
Each object should have a single responsibility. (I've seen a downside to this, where you have to chase through a mass of fine-grained objects to find where something is actually done.)
Manage dependencies to reduce risk. An object should depend on objects that change less often than it does.
Inject dependencies, use Ruby's duck typing: Send in an object as an argument that responds to the needed message
Delay design decisions until you have at least three examples of what a class needs to do. (Two, if pressed.)
Good design is TRUE: Transparent, Reasonable, Usable, Exemplary
DRY: Don't Repeat Yourself.
Law of Demeter: Don't chain calls through many objects, since that entails knowing too much about the insides of other objects.
Isolate risky bits of code inside a wrapper, so they can be improved easily later.
Test an object's public interface (messages it responds to), and command messages it sends (messages with side effects).
Use Ruby Modules to share code and tests.
Highly recommended as a guide for both general design, and how to write maintainable, flexible Ruby code.
The book's website and Sandi Metz's website.