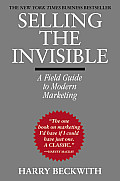 Recommended to me by: Jessie Upp, Biznik comment
Harry Beckwith, head of a marketing firm for 23 years, explains how marketing a service differs from marketing a product, and why it matters.
This book was published in 1997, so some of its claims to modernity ring hollow in 2008, but it still has a lot to offer. The ideas are clearly laid out in short chapters beginning with catchy taglines and ending with boldface commands.
Some of the ideas were new to me, and others brought clarity to vague intuitions about marketing.
While product companies compete with other product companies, service companies compete with their own customers, who could do the job themselves or choose not to hire anyone at all. Competitive/negative marketing is counterproductive.
Improve the service, first, last, and always.
Integrity is key.
A service is intangible, and, often, so is the value received. A lot of service marketing is about customer reassurance.
Position is how the market sees you, positioning is how you want them to see you.
When setting pricing, take not only hours of labor, but also years of training and experience into account.
Talk about benefit to the client, not features of the service. I've seen this one a lot, but it made more sense in context.
Definitely worth reading in my ongoing quest to understand marketing and apply it in a way that works for me.