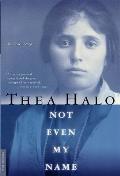 Recommended to me by: Joe Graziosi in a East European Folklife Center (EEFC) mailing list post Re: Books on Pontos/Pontian People?
Thea Halo and her mother Sano Themia Halo present a gorgeously detailed first-person account of the countryside, daily life, and people living in a tiny village in the Pontic mountains of Turkey south of the Black Sea in the early 20th century. Equally vividly, they describes the end of that way of life as ten-year-old Themia, her family, and everyone else around them are forced away from their homes on a months-long, heartbreaking death march.
I found myself skipping over the occasional departures from a personal account into paragraphs of historical numbers and dates, and Joe Graziosi notes that these history lessons are "biased and often incorrect".
I learned about the Pontic people and their peaceful village life. I learned about the little-known genocide of Pontic Greeks, Armenians, and Assyrians in Turkey after World War I. I learned that the Assyrians are a living people, not just a shape on a map in Ancient World History class.
I learned about one girl's survival, and her decision to act in kindness rather than meanness throughout her life. When she had finally come to relative safety after her horrific journey, I recognized a trauma response in her daily bouts of shivering. I'm glad she finally reached a place where she could receive caring and warmth.