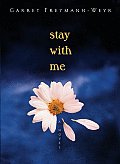 Recommended to me by: Marissa Lingen
Narrated by oddly mature sixteen year old Leila ("Lee-la") Abranel, this coming-of-age novel shows her both grappling with her much older sister's suicide, and embarking on her second romantic relationship. The story is absorbing, but harrowing events and difficult emotions are described so quietly that the characters seem flat and distant.
My favorite theme is Leila's mother encouraging her to trust her self and her instincts. In turn, Leila says, "My body is the one thing in life I completely trust." I wish I had learned that as a teenager!