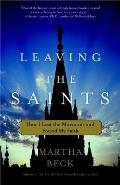 Subtitle: How I Lost the Mormons and Found My Faith
Recommended to me by: Reading Martha Beck's older books
I first read this years ago and loved it. I came back to it while writing a (forthcoming) article about spiritual abuse and faith. Since I last read it, I read her newer book "Steering by Starlight" and saw that her latest book is about weight-loss, so I started re-reading with trepidation. I still like this one, though!
This book is honest about extreme sexual and spiritual abuse and its effects, side by side with humorous details about daily life. She talks about forgiveness without preaching (much). She talks about how crazymaking it is to have someone casually deny reality. She talks about how wrenching it is to lose family connections because she tells the truth.
She also talks about her personal search for faith, first as the seeking camel, then as the discerning lion, then as the innocent, playful child.
In her last act as a practicing Mormon, she spoke to a huge crowd about domestic violence. "If something I said feels right to you, believe it. If it feels wrong, disbelieve it. The choice to believe or disbelieve, that's what makes you free."