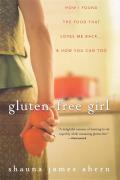 Recommended to me by: Shauna James Ahern's blog
Ahern describes a childhood filled with packaged and processed foods, and increasing problems with digestion and energy. She forges a new relationship with food as an adult, and finally realizes that she has celiac disease. Whenever she eats wheat or any other food containing gluten, her digestive system attacks itself, causing a multitude of symptoms, including severe lack of energy and digestive distress.
The richly detailed prose glows with her enthusiasm for food and for life. The only downside of the book is that it repeats background material, more like a collection of essays than a single narrative.
I appreciated learning that celiac disease can be present even if the symptoms are not yet at crisis level. I also appreciated the descriptions of gluten-free grains. The warnings about where gluten can hide motivated me to take more care in my kitchen, including replacing my wooden spoons.
I bought this book in hopes of finding a recipe for flourless cake. It has a lot of great gluten-free recipes, but not that one, alas. I ended up using this chocolate decadence recipe instead (with high-quality chocolate) to great acclaim. I do plan to try some of her recipes.