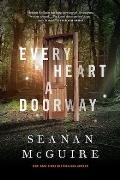 Recommended to me by: Tor.com giveaway
What happens to the kids who go through a portal to another world, and then get stuck back in this one? They might get grouped together at a school for wayward children where they can tell each other about their worlds and try to re-acclimate.
There was some unexpected violence in the plot, but there is also a deep vein of kindness in this book, as well as a deep vein of understanding for children feeling completely at sea in the world they find themselves in – this world.
Highly recommended.
The sequel, "Down Among the Sticks and Bones" has more violence and less kindness (although still some) with strong opinions about children being people, not paper dolls.