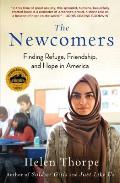 Subtitle: Finding Refuge, Friendship, and Hope in an American Classroom
Recommended to me by: My friend Linda K.
Helen Thorpe spent a year and a half observing and helping in an ELA (English Language Acquisition) class at South High School in Denver Colorado. Her journalist's eye is both clear and compassionate as she watches a classroom of newly arrived teen refugees from around the world learn English basics.
I remember when ELA used to be called ESL, English as a Second Language, but it is an apt name change since some of these kids already speak three or four languages, and maybe read and write in three or four alphabets.
Both the school as a whole and the beginning ELA teacher Mr. Williams in particular are dedicated to welcoming kids from around the world and helping them succeed.
I was worried that the book would focus on the tragedy of young refugee lives, or look down on the kids, but the book celebrates them as strong, determined, resilient young people. Difficult circumstances and traumatic stories are described with a light touch, clearly and with compassion.
Helen Thorpe gets to know the kids by interacting with them in class (with the help of Google translate on their phones), interviewing them with hired translators, and visiting a few of them at home to talk with their parents. She also learns about the history of war and oppression that has caused these families (and some unaccompanied minors) to flee their homes, sometimes multiple times.
After the school year, she visits the Democratic Republic of Congo, which is still in crisis, and meets some relatives of one of the families she got to know.
The book was written in 2016. It shows both the dedication of the people who help refugees get oriented and settled in the US, and the worsening effect of Trump's rhetoric on students who are harassed on city buses for wearing hijab or having dark skin. It ends with Trump's election and the shock of knowing that refugees need help more than ever, but not having an incoming caseload because of Trump's Muslim Ban.
Highly recommended! Learn about what refugees' lives are really like, and how hard the lucky ones who make it into the US work to become established here, while enjoying getting to know this group of teens and the people around them.
Population Mountains – a way to visualize the population and surroundings of some of the cities the immigrants came from (not affiliated with the book).