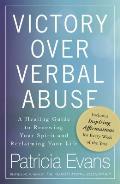 Subtitle: A Healing Guide to Renewing Your Spirit and Reclaiming Your Life
Recommended to me by: Reading Patricia Evans' earlier books about verbal abuse many years ago
Patricia Evans named the severity and prevalence of verbal abuse and offers validation and healing for survivors. Her earlier books "The Verbally Abusive Relationship" and "Verbal Abuse Survivors Speak Out" focus on describing verbal abuse and coping with it. This book focuses on healing from the aftermath once the abuse is over. She recommends no contact with abusers.
She states clearly and repeatedly that verbal abuse is not the survivor's fault. The abuser has projected their self into their victim and is not recognizing the victim as a separate person. Healing involves recognizing that and rebuilding one's self.
The book includes a summary of what verbal abuse is, including survivor stories, brief descriptions of trauma healing modalities, and a set of 52 affirmations such as "I am confident even as I confront the unknown," with a page or two of accompanying text.
The trauma healing modality called "Healing the Spirit" had some victim-blaming quotes, but the rest of the book is wonderfully free of that.
Recommended if you are in the process of healing from verbal abuse and would like an understanding guide.