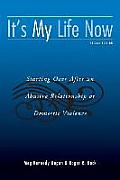 A how-to manual on starting over after leaving an abusive relationship.
This is a well-organized, well-written book for the survivor of an abusive relationship. Common myths, such as, "Anyone who could love an abusive partner must have a serious psychological problem," are addressed and corrected in each chapter
Topics covered in the book include:
Types of abuse, including sexual abuse within a relationship
Assessing and ensuring safety after leaving
Grief for the loss of the relationship
Practical aspects of making a living after leaving
While the authors follow the usual convention of assuming a female survivor and male perpetrator through most of the book, I was glad to see a chapter about gay, lesbian, and transgender relationships and male survivors.
The book is written to "you" the survivor, which led to a feeling of overwhelm and intrusion for me as I read. While the book is written with sensitivity and sympathy, the style also conveys an underlying assumption that the authors understand the experience of being abused better than the reader. This undermines what I see as the most important task of an abuse survivor – regaining trust in one's internal experience.
This book is a useful resource for anyone working with or supporting survivors of domestic violence and abuse.